Mattress film packing machine manufacturer direct sales - don't want to be middleman pit come here
Views: 25 Author: Stenburg Mattress Machine Publish Time: 2020-06-15 Origin: Site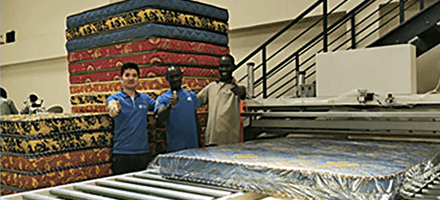 Stenburg is a one-stop supplier of mattress machinery. It is a Guangzhou manufacturer of mattress machinery in China. This time, we recommend the machine:Mattress Film Packing Machine
Before that, many people asked us about Mattress Film Packing Machine. Now we recommend it.The Mattress Film Packing Machine is mainly used for automatic wrapping and heat sealing of the mattress packaging film, and the whole packaging process is automatically controlled, the production efficiency is high, the use is convenient, the labor cost is greatly reduced, and the necessary equipment for producing the mattress is.
We can provide a professional and professional after-sales service team, free debugging and operation training; a complete customer electronic file system; a dedicated person to regularly visit, listen to customer feedback, follow up maintenance in a timely manner; enjoy life-long preferential parts supply and high-quality maintenance services; 24 Hour customer response and other services to customers
We have many customers from all over the world who use Stenburg mattress machinery. If you have a need for automatic mattress machines, please leave your message on the "Contact Us" website, we look forward to your contact for more details , I hope you have a great day, thank you for reading!